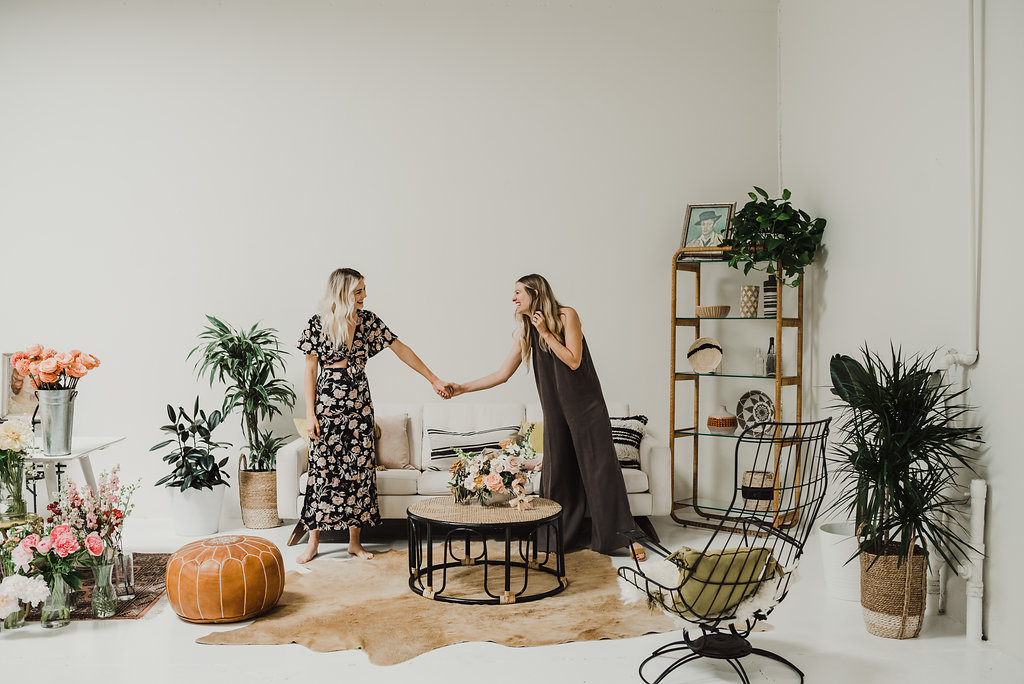 firmness of mind or spirit : unyielding courage in the face of hardship or danger
This afternoon, I was going through my journal, reflecting on what I've been learning. There was a large entry after we attended a Create & Cultivates conference in Los Angeles this past February. The day was filled with inspiring women in leadership, sharing their stories' of how they came to be who and what they are.

Besides all the incredible food we ate that day, we were filled to the brim with new vigor to invest in the journey our little rental business is on.

In my notes, I found copious amounts of wisdom from Daina Trout—CEO of Health-Ade Kumbucha. She spoke about where she started, how her business grew, and the hardships along the way, I was struck with a singular takeaway. GRIT.
"Grit" was not the word she used, but it was exactly what she was describing. Her journey began in 2012 brewing up a healthy alternative in her tiny LA apartment, just dreaming of selling out at the farmers market down the street. Now she talks from a podium to hundreds of women about how to manage a growing enterprise.
She was candid with the difficulties of trying to be financially responsible while hitting her first big break, figuring out how to keep up with demand while balancing creative freedom, and how to be a boss. She expressed the hard lessons of juggling all that and more all while wanting to be a super mom and super wife. Not to mention…sleep every now and then!
GRIT. Grit is what has brought her through those trials. And grit has seen us through a fair share of our own.
We began much like Trout in a tiny little garage in my parents home with furniture we scavenged from our apartments and pulled together with our combined budget of 1,4000! At the beginning we sacrificed a massive amount of time to do work for free hoping that it would lead to jobs & new clients. And at first it didn't, and then "grit" tells you not to give up, so we continued!
Finally, as we started to bring in consistent revenue, we poured every cent back into the business, buying new inventory. After two years we were able to move into our first warehouse! Cramped as the garage may have been, it was a huge & scary investment for us to take on our first lease. We started having to think about overhead costs…maintain the furniture on a much bigger scale, investing in a delivery vehicle, paying delivery staff, paying warehouse rent/wifi/utilities/etc.

Now, we are nearly 1 year at our newest 8,000 square foot warehouse with a fully equipped photo studio, our first full time employe, and more children in the picture…the jump feels just as scary! Grit.
I've wanted to share about grit for a while now, as it's deeply shaped the business we've created. At first, as I began to write this blog, it was about inspiring you readers to lean into your dreams even when they take you for a bumpy ride. That remains true. But the message I feel coming out as I write in this season of figuring out how to maintain a thriving business is that DREAMS EVOLVE.
What we set out to do, what we imagined the road would look like, and where we had dreamed the business of going…all of it has changed and morphed over time. Four years into our careers as business owners and we have not only started a rental company, but we are now staging homes, running a commercial photo studio, styling for other companies photo shoots, speaking at business conferences, and sharing our wisdom on podcasts.
WHO WOULD HAVE THOUGHT?!
In the midst of all the change, the never ending highs and lows that life throws at us, the word of advice I have for you: be adaptable. Be open to the opportunities that seem scary & completely out of left field. Often life's best gifts are handed to you in a package you didn't even know to ask for. To maintain that adaptability and resilience in hard seasons of business or life, that takes—all together now—GRIT.
We hear from people how glamorous and fun our jobs look, and we would agree! However, there is so much more that goes on behind the social media curtain for us and every "glamorous" looking business out there. The big reveal—blood, sweat, and tears.
I hope you are encouraged, wherever in the boss-lady/boss-dude journey you are. May you find hope and new zeal, as we did listening to the speakers of C & C about how they have faced adversity and came through it.
You'll come through it. Hang in there. Be gritty.
Your's Truly,
Xx
"You'll come through it. Hang in there. Be gritty."